Flint Hills Resources, located in Iowa Falls, Iowa, has rolled out plans to begin adding grain capabilities. The ethanol plant will soon begin construction on improvements that include a new grain receiving pit and material handling upgrades. When complete, the project will more than double the biorefinery's receiving speed while cutting truck turn times in half.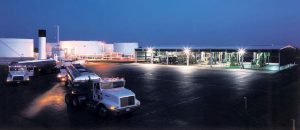 According to Flint Hills, the new pit will increase receiving speeds by nearly 175 percent and truck turn times, from probe to exit, will be reduced by nearly 55 percent. The pit is expected to be open in time for harvest – October 1, 2016.
"We are excited to be making these investments in our plant," said Matt Hamburg, plant manager at Flint Hills Resources Iowa Falls. "At Flint Hills, we strive to create value for our customers, and we hope these improvements will enhance our customers' experience while on our site."
In addition, Flint Hills Resources is currently hiring for open positions available at its seven ethanol facilities in Arthur, Fairbank, Menlo, Shell Rock, Iowa Falls, Iowa, Fairmont, Nebraska, and Camilla, Georgia, and its regional offices in Ames, Iowa. Click here for more information.