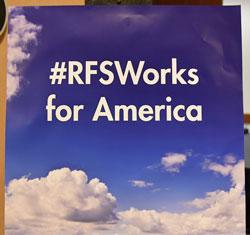 The Renewable Fuel Standard (#RFS) must continue to operate as it was defined by Congress in 2007 said Randy Caviness during the EPA Hearing in Kansas City, Missouri last Thursday. Caviness serves as a member of the American Farm Bureau Federation (AFBF) Issues Advisory Committee on Energy and biofuels, and thus the RFS, are huge priorities for the committee. He also represented the Iowa Farm Bureau with his remarks.
"EPA's decision not to follow the intent of Congress in the 2007 RFS is highly disappointing to all of agriculture," said Caviness. "This decision strikes a blow to conventional ethanol production and dampens the prospects for the further development of advanced biofuels."
Caviness speaks from personal experience about how ethanol benefits farmers, rural economies and consumers. He has farmed for 28 years without energy-intensive tilling and leads initiatives to install wind turbines in Adair and Cass counties in Iowa. "Reducing RFS hurts agriculture and rural communities at a time when the down economy already has many producers in a pinch," he told the panel of EPA representatives who were on hand to listen to nearly 140 personal stories from ethanol supporters. Only a handful of those testifying were against the RFS.
Caviness added, "Our nation's farmers can grow more bushels of corn and soybeans on fewer acres to feed and fuel the world. "But if these reduced volumes are finalized, this decision will stall growth and progress in renewable fuels as well as the broader agricultural economy."
Listen to Caviness' testimony here: AFBF testimony at EPA hearing
Coverage of EPA RFS Hearing made possible by