Thirty-five year ethanol veteran, advocate, CEO of Al-Corn Clean Fuel and Chairman of the Renewable Fuels Association (RFA) Randy Doyal wants the Environmental Protection Agency (EPA) to know that while the renewable fuel volumes for ethanol are set to improve in 2017, the proposed volumes under the Renewable Fuel Standard (RFS) suffer from the same problem as before – the statute does not allow EPA to issue a waiver based on proposed constraints on distribution such as the so-called blend wall.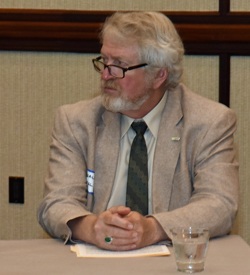 "If the supply of renewable fuel and RINS is adequate to meet the statutory volume, then the obligated parties are obligated to distribute those volumes to consumers," said Doyal during his testimony at the EPA hearing this week on the proposed 2017 volume obligations under the RFS. He added that the proposed volumes once again leave obligated parties off the hook in their legal obligation.
Doyal says there is a more than adequate supply of ethanol to meet the demand and what may be the most frustrating thing about the 2017 proposed rules is that at 14.8 billion gallons it is just short of the statutory mandate of 15 billion gallons. "Why not go all the way? Doing so would be faithful to Congressional intent and avoids further litigation," he said.
Listen to Doyal's testimony here: RFA Chair Randy Doyal, EPA testimony
Coverage of EPA RFS Hearing made possible by