The so-called blend wall, or the barrier to blending ethanol into more than 10 percent of the fuel supply, is not in fact a barrier, explained Ron Lamberty, senior vice president of the American Coalition for Ethanol (ACE). He spoke these words to EPA representatives in Kansas City yesterday as they heard testimony from more than 100 hundred ethanol advocates about the proposed 2017 rules of the Renewable Fuel Standard (RFS).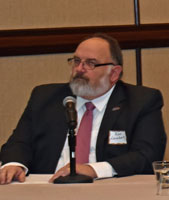 "Today, said Lamberty, "I want to use my time to help the Agency gain confidence that it is not only possible to go beyond 10 percent ethanol, it is already being done." He noted several representatives of fuel retailers that are selling choice to consumers at the pump through ethanol blends such as E15 and E85.
For example, Lamberty pointed to Petroserve USA who offers E15 and flex fuels in six of their North Dakota convenience stores and their overall ethanol volume was 13.4 percent. He spoke about Bosselman Enterprises who offers higher ethanol blends in eight of their Nebraska location and ethanol makes up 15 percent of their total care and light truck fuel sales in these locations.
Protec is another E85 wholesaler currently supplying 289 stations from Maryland to Texas, with plans to add 300 more utilizing funds from USDA's Biofuels Infrastructure Partnership. Lamberty explained that about half of Protec's current stations sell E85 on one island, and it makes up 9-13 percent of total fuel sales at those stations. Newer locations offering flex fuels on multiple islands sell 18-28 percent flex fuels. "That's up to 32 percent renewable fuel, Lamberty stressed, "and while 9 percent E85 sales may not sound like much, that small amount of E85 boosts the stations' overall ethanol sales to 17 percent – well beyond any so called E10 'blend wall'."
Lamberty also told the story of ethanol retail success story Bruce Vollan. "At a previous hearing, South Dakota retailer Bruce Vollan told EPA there is no blend wall "Unless petroleum marketers don't give their customers any choices above 10 percent." And while oil companies continue to contractually limit sales of blends above 10 percent, half of Bruce's customers buy the higher ethanol blends he offers, and ethanol makes up more than 25 percent of his total gas volume. Two and a half years ago, Bruce Vollan also told EPA, "The secret to getting over the blend wall . . . is to TRY to get over the blend wall."
"That has been proven true by a number of retailers, and I encourage EPA to also TRY to get over the blend wall. Stand firm as you have in the past, and enforce the RFS as it was written," Lamberty concluded.
Click here to read Ron Lamberty's full testimony.
Coverage of EPA RFS Hearing made possible by