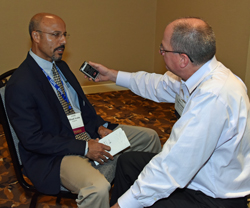 The 10th annual Corn Utilization Technology Conference (#CUTC16) took place in St. Louis this week and featured several corn technologies. One such advance is Enogen, developed by Syngenta. The product was designed to improve the conversion from starch to ethanol enabling facilities to produce more ethanol per bushel. Miloud Araba, head of technical services for Enogen, discussed the enzyme technology that makes more ethanol from corn happen.
Araba gave an update on Syngenta's partnership with Quad County Corn Processors who developed a cellulosic production technology called Cellerate that produces more ethanol in the fiber of the kernel. He noted that one of the best things about the technology is that it offers an unusual combination: Cellerate increases ethanol and yield at the same time. Now add the Enogen technology and wow.
The ethanol industry has done extremely well, said Araba, and Cellerate is part of a great future. Being able to increase yields and ethanol production, he added, means growers don't have far to go to offer more energy to the nation.
Even better, the new product is a good solution for everyone. "You're not only bringing value to the ethanol plant, you're bringing value to the farmer–the corn grower," Araba explained. "In this case you've turned the farmer not only into a corn provider, but also an enzyme provider. And so this is what we like to call a win, win, win. A win for the community, a win for the farmer, and also a win for the ethanol plant."
Araba added that he is hearing great feedback from participants at the conference because of the simplicity of the process. "Technologies do not have to be complex to bring a lot of value."
Listen to Chuck Zimmerman's interview with Miloud Araba here: Interview with Miloud Araba, Syngenta
Check out pictures from the conference: 2016 CUTC Photo Album.