Biofuel supporters from around the U.S. were in Kansas City, Missouri today to share their personal stories of how the Renewable Fuel Standard (RFS) has benefited them, their communities and the country. The EPA held a hearing to collect comments about its 2018 proposed rule for biomass-based diesel volumes, the fuel category in which biodiesel supplies the majority of gallons.
Led by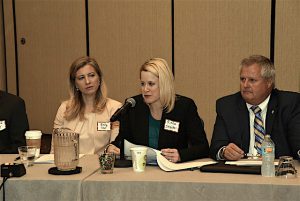 National Biodiesel Board (NBB) Chairman Ron Marr along with NBB Vice President Anne Steckel, the biodiesel industry had representatives from Louisiana, Iowa, Massachusetts, Missouri, North Dakota and Rhode Island to give testimony. The group delivered the message that the biodiesel industry creates jobs while the renewable fuel reduces pollution and diversifies the country's fuel mix, a move that strengthens U.S. energy security.
"Biodiesel is the most successful Advanced Biofuel in the nation, and plants like mine can do so much more with the right policy signals," Marr, biodiesel manager at Minnesota Soybean Processors, said during his testimony. "Our industry is ready to expand production with new jobs and economic impact. By the EPA's own analysis, biodiesel reduces greenhouse gas emissions by at least 57 percent and as much as 86 percent. So if our nation is serious about cutting emissions in the transportation sector, this proposal needs to be strengthened to truly capture biodiesel's potential while putting more Americans to work in the clean energy sector."
According to NBB, biodiesel is the first and only EPA-designated Advanced Biofuel to reach commercial-scale production nationwide. It has made up the vast majority of Advanced Biofuel production under the RFS to date, and according to the EPA, reduces greenhouse gas emissions by 57 percent to 86 percent compared with petroleum diesel. The EPA proposal would establish a 2.1-billion-gallon Biomass-based Diesel requirement in 2018, up from the 2-billion-gallon requirement for 2017. NBB has called for at least 2.5 billion gallons in 2018, as the industry is already on pace to exceed 2.1 billion gallons in 2016. There remains substantial unused production and distribution capacity in the United States.
Steckel stressed during her testimony, "Ending our dependence on fossil fuels is among the great challenges of our time. Changing the way we power our vehicles requires bold, aggressive action, and the RFS is the most effective policy we have for accomplishing that. The RFS is not a status quo policy. It was designed to drive investment and innovation by providing stability and incentives for the development of clean alternative fuels. But this proposal falls short of that goal."
Listen to Chuck Zimmerman's interview with Anne Steckel here: Interview with Anne Steckel, NBB
Listen to Anne Steckel's testimony here: Anne Steckel, NBB #RFS Testimony
Coverage of EPA RFS Hearing made possible by