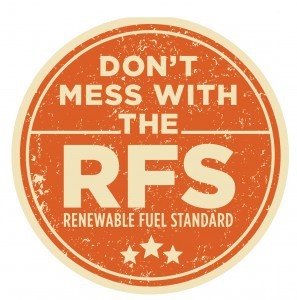 The U.S. Environmental Protection Agency (EPA) is holding a public hearing tomorrow, June 9, 2016 in Kansas City, Missouri. The hearing begins at 9:00 am CT at the Sheraton Kansas City Hotel at Crown Center, 2345 McGee Street, Kansas City, Missouri, 64108. EPA representatives will be listening to comments related to the Renewable Fuel Standard (RFS) proposed rules, ''Renewable Fuel Standard Program: Standards for 2017 and Biomass-Based Diesel Volume for 2018'.'
A conference line has been set up for the public hearing in listen-only mode and will open when the hearing begins at 9:00 AM Central time.  To listen in to the hearing on June 9, 2016, dial: 877-396-8104 (Toll-Free) or 720-362-6938 (Toll), and enter participant code 29834687#.
In addition, Fuels America is holding a press conference at 10:30 am in Chouteau B on the mezzanine level
of the Sheraton. Speakings include:
Pete Ricketts, Governor of Nebraska
Bob Dinneen, President and CEO of the Renewable Fuels Association
Emily Skor, CEO of Growth Energy
Chip Bowling, President of the National Corn Growers Association
Chris Soules, Iowa Farmer and Reality Television Star of "The Bachelor" & "Dancing with the Stars"
Annette Sweeney, Iowa Farmer and Former State Representative
Brian Sowers, Missouri Sportsman and Co-Host of Crappie Masters TV
Richard Fordyce, Missouri Director of Agriculture
Those unable to attend the press conference can watch it live via Periscope at Twitter.com/FuelsAmerica.
ZimmComm's Chuck Zimmerman will be on site covering the hearing for Energy.AgWired.com with special thanks to the Renewable Fuels Association (RFA) for sponsoring are #RFS Hearing coverage.
Coverage of EPA RFS Hearing made possible by