June 2, 2016 marked the second anniversary of the Clean Power Plan (CPP), a historic piece of legislation that requires power plants to lower emissions and convert to renewable energy sources. As the CPP remains under fire, Americans United for Change (AUFC) has released a new report, "Polluter Impunity," intended to expose behind the scenes coordination of opponents and details the donations from polluters and energy interests who have funded a lawsuit against the EPA's plan. AUFC says multiple Republican Attorney Generals from around the country are on the "anti's" legal team.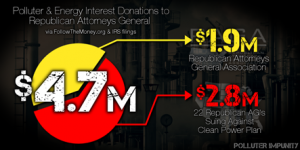 The report is part of AUFC's Polluters over People campaign. It furthers the narrative from a December 2014 New York Times exposé that revealed an "unprecedented, secretive alliance" and coordination between Big Oil and Republican Attorney's General against "environmental safeguards. AUFC says Polluter Impunity shows that Republican AG's pockets have been lined by the dirty energy interests for whom they've advocated. The report cites that since 2014, the Dirty Energy sector and Big Polluters have donated nearly $2 million to the Republican Attorneys General Association as well as $2.8 million dollars to the campaigns of individual Republican Attorneys General leading the charge on the lawsuit and blocking climate action. The report also shows new evidence of behind the scenes coordination between dirty energy interests and the offices of Republican Attorneys General acquired through Freedom of Information Act requests.
AUFC notes that the anti's have lost in the court of public opinion so they are attempting to win in the court of law to stop the implementation of the CCP even though the U.S. Supreme Court has upheld the EPA's authority to limit carbon pollution three times.