Pacific Ag is expanding with a new office opening in Fargo, North Dakota. The company has the longest and most expansive crop residue supply chain in the U.S. and has opened the new office to serve the growing demand in for wheat straw residue among the dairy, beef, mushroom and erosion control industries. Pacific Ag also harvests and delivers biomass to biorefineries. Tom and Stephanie Borgen, local farmers and wheat straw providers, will be serving in the role of regional managers.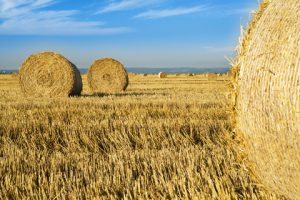 "In Pacific Ag, Stephanie and I saw a company that shares our vision for how sustainable residue harvesting can help farmers add to their bottom line," said Tom Borgen. "It's a great chance for us to grow personally and professionally by working with a world class management team. Together we can more quickly and more widely expand the market for wheat straw by providing customers a professionally-managed supply chain that offers large-scale, consolidated supply, precise quality control and stable, competitive pricing."
Pacific Ag has 20 years of experience harvesting residue and says they have developed harvest methods and expertise the enables soil health preservation while reducing ash and other foreign matter in the resulting biomass bale or stover. The company, which maintains its own dedicated baling fleet, proprietary supply chain management system, and logistics and trucking division, harvests more than half a billion tons of biomass each year with key markets in California, Kansas, Texas, Oklahoma, North Dakota, Iowa and North Carolina.
"Tom and Stephanie are a great addition to the expanding Pacific Ag team," said Bill Levy, founder and CEO of Pacific Ag. "They have a strong reputation for integrity, quality and service among both growers and customers, and they will play a key role in establishing and managing our presence in the region. We look forward to leveraging our national supply chain system to increase opportunities for both growers and customers in the Upper Midwest."