The next step in Canada's Biojet Supply Chain Initiative (CBSCI) has been determined. Air Canada has announced the three-year collaborative project will take place at the Montréal-Trudeau Airport. The goal of the program, that includes 14 stakeholders, is to use 400,000 litres of aviation biojet (biofuel) into a shared fuel system.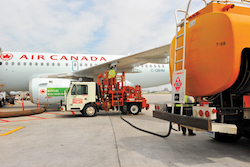 Aviation fuel is not new to Air Canada. The airline has flown with biojet fuel but the biofuel was segregated from traditional jet fuel and loaded separately into the aircraft via a tanker truck. However, this program aims to integrate the two fuels together and create the ability for a multi-user, co-mingled airport fuel supply system. One goal of the project is to identify and help solve supply logistic barriers that arise when aviation biofuels are introduced at major Canadian airports.
"We are pleased that this important initiative will be held at Montréal-Trudeau Airport," said Teresa Ehman, director – Environmental Affairs at Air Canada. "Air Canada has invested billions of dollars in fleet renewal to reduce our fuel consumption and meet our current emission reduction goals. Biojet holds the potential to be an important part of our strategy for achieving our longer-term industry goals of carbon neutral growth from 2020 and a 50 per cent reduction in emissions by 2050, relative to 2005 levels. The CBSCI project will contribute significantly to advancing a biojet supply chain in Canada by facilitating the logistics involved in the introduction of biojet to an airport's shared fuel system."
This is the first of its kind project in Canada and one step in getting the aviation industry closer to creating a sustainable supply chain of renewable feedstocks for use in biojet fuel. The bioject used in the CBSCI project will be sourced from commercially available, certifiably sustainable Canadian oleochemical feedstocks using the Hydroprocessed Esters and a Fatty Acids (HEFA) conversion process. The biojet will be blended with petroleum jet fuel to meet all technical quality specifications before being introduced into a shared fuel tank at Montreal-Trudeau Airport.
"This initiative is consistent with Aéroports de Montréal's (ADM) efforts to reduce GHG emissions. We are proud that Air Canada has chosen Montréal–Trudeau for this project. Let's hope that this will be just the start of a strong short- and medium-term partnership to ensure the project's success," added ADM President and Chief Executive Officer James Cherry.