Nebraska Governor Pete Ricketts has proclaimed May "Renewable Fuels Month". The aim is to recognize the benefits the ethanol and biodiesel industries have provide the state. Nebraska is home to 25 ethanol plants making it the country's second largest ethanol producing state behind Iowa. There is currently one biodiesel plant producing 50 million gallons with a second plant located in Beatrice, Nebraska expected to go online this year.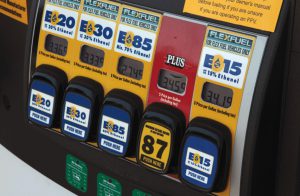 "Renewable biofuels have absolutely transformed the economic landscape in Nebraska," said Ron Pavelka, a farmer from Glenvil and chairman of the Nebraska Soybean Board. "The additional demand for Nebraska commodities created by renewable fuels production has created a new market for farmers, generated significant investment and tax revenue in rural communities, and created good paying jobs in areas of the state that really need them."
David Merrell, a farmer from St. Edward and chairman of the Nebraska Corn Board, noted, "The growth of renewable biofuels has helped reduce our nation's dependence on imported petroleum, reduced prices at the pump and provided greater choice for consumers. But perhaps the most important benefit of these fuels is their dramatically positive impact on the environment and on human health."
For example, Merrell says adding biodiesel to the tank reduces hydrocarbon emissions by 67 percent and reduces lifecycle greenhouse gas emissions by 86 percent compared to diesel fuel. The 2.1 billion gallons of biodiesel used in 2015 reduced the amount of carbon in the atmosphere by 18.2 million metric tons, the equivalent of removing 3.8 million cars from the road or planting 466 million trees. In addition, Merrell explains that ethanol is a non-toxic, clean-burning fuel that dramatically reduces the level of toxics added to gasoline to increase octane, including proven and suspected carcinogens such as benzene, toluene and xylene.
"Since these toxics do not completely combust in the engine, they enter the atmosphere through exhaust emissions and are directly connected to cancer, heart disease and asthma in humans," Merrell added. "The more ethanol we add to gasoline, the lower the levels of these harmful toxics in the air we breathe."