The American wind energy industry kicked off the year with a bang – the best since first quarter 2012. According to the American Wind Energy Association (AWEA), wind added 520 MW of new generating capacity from January – March of this year. The U.S. Wind Industry First Quarter 2016 Market Report also found the industry has begun construction on another 2,000 MW with a total of more than 10,100 MW of wind capacity currently under construction.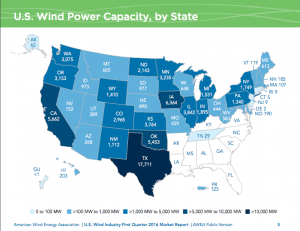 "Our productive first quarter reflects the strength of American wind power entering 2016. We have a low-cost product that's in high demand," said Tom Kiernan, CEO of AWEA. "As the wind business builds momentum, we're prepared to double wind's contribution to America's electricity supply in the next five years."
There are now more than 48,800 wind turbines operating in 40 states plus Puerto Rico and, for the first time, Guam – enough to power 20 million average homes with 74,512 MW of total installed capacity. Turbines were installed at seven projects across six states this quarter; Oklahoma led the country with 270 MW of wind capacity installations, followed by Iowa (154 MW), Utah (62 MW) and New Mexico (32 MW).
Texas remains the leader for total installed capacity and reported construction activity and accounted for over 54 percent of construction underway during the first quarter. The Plains region of Oklahoma, Kansas and Nebraska came next with 18 percent of construction activity, followed by the Midwest at 12 percent.
The newest quarterly market results follow the release of AWEA's 2015 U.S. Wind Industry Annual Market Report, which highlights the growing demand for wind energy in 2015.