A new report from Lux Research has found that using low-carbon fuels and vehicle efficiency will cut road transport CO2 emissions 29 percent by 2030. Biofuels and natural gas combined will account for 45 percent of petroleum displacement. Today, global road transportation accounts for a sixth of all global CO2 emissions.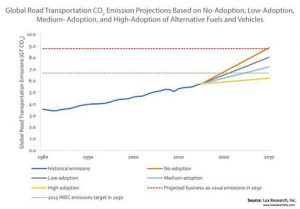 The sharp cut – exceeding the Intended Nationally Determined Contributions (INDC) target of 24 percent set by 188 nations at the Paris Conference of the Parties (COP21) in 2015 – can be achieved from a combination of low-carbon fuels, alternative fuel vehicles, and improved fuel efficiencies.
"Global warming remains at center stage, and significant strides need to be made in road transportation technologies to achieve the goal set for 2030," said Yuan-Sheng Yu, Lux Research analyst and lead author of the report titled, "Driving Down Emissions: Achieving CO2 Emissions Reduction Goals through Biofuels and Alternative Fuel Vehicles". Low-carbon biofuels like cellulosic ethanol, renewable diesel, and biomethane have lower well-to-wheel carbon intensities compared to their first-generation counterparts and play a pivotal role in cutting emissions, as does renewable electricity."
The report evaluated measures needed to meet emission targets set at COP21. Some key findings included:
Biofuels are key. First-generation biofuels, low-carbon fuels, and natural gas vehicles will together account for at least 45.4% of the potential fossil fuel displacement in road transportation in 2030, when global road transportation demand is projected to reach 911 billion gallons.
Carbon intensity matters. First-generation biofuels have made incremental reductions in road transportation emissions over the years. But low-carbon biofuels will be the key driver in achieving 2030 emissions reduction goals with an average three to four times lower well-to-wheel carbon intensity profile.
Fuel efficiency counts. Without improved fuel efficiencies, emissions reduction falls short of the INDC target in 2030 by nearly 5%. Automobile makers will have a range of lightweight materials available as multinationals and start-ups develop the next-generations of steel, aluminum and composite technologies.