The American Coalition for Ethanol (ACE) is a new member of the U.S. Grains Council, recognizing the important role that organization plays in the promoting exports of both ethanol and the livestock feed co-product DDGS.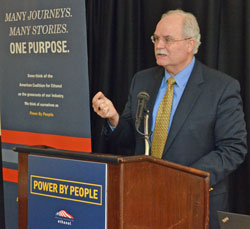 "We have a unified (ethanol) industry effort working together to build exports," said USGC president and CEO Tom Sleight who visited with members of ACE in Washington DC last week for their annual legislative fly-in. "For 15, 20 years we've been doing DDGS and now for about three years we've been looking at ethanol and the effort is going farther and faster then I thought it would, again because of the strong cooperation we're getting from the full ethanol industry."
Sleight says China, Japan, Mexico and India are top priorities for U.S. ethanol exports. Secondary markets include Canada, Philippines, Colombia, and Peru.
In this interview, Sleight also discusses the U.S. DDGS market outlook and upcoming Export Exchange this year to bring buyers and sellers of DDGS together. Interview with Tom Sleight, USGC