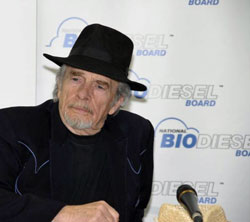 Back in the early years of the biodiesel industry, Merle Haggard was one of the stars who came out in support of the American-made biofuel.
The country music legend who died last week at the age of 79 made a legendary appearance at the 2007 National Biodiesel Conference, holding a press conference and performing for those in attendance. During the press conference Merle said that he was learning about the benefits of biodiesel. When asked what attracted him to the renewable fuel source his answer was "the smell." He also he was happy about how the development of biodiesel was helping American farmers.
Listen to the legend talk about biodiesel with NBB CEO Joe Jobe here: 2007 Biodiesel press conference with Merle Haggard
Check out the photo album from the 2007 biodiesel conference for more photos of Merle.