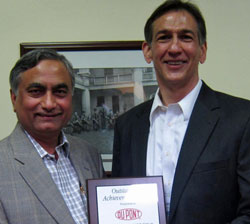 DuPont Industrial Biosciences has been recognized by the Biorenewable Deployment Consortium (BDC) with the organization's 2016 Outstanding Achievement Award for the company's continuous contributions to the deployment of biochemical and advanced cellulosic biofuels.
"The Biorenewable Deployment Consortium is proud to honor DuPont with its 2016 Outstanding Achievement Award," said BDC President and Co-Founder Masood Akhtar. "DuPont sets a strong example for others around the world who are working to expedite the transition from a petroleum-based to a biobased economy."
"DuPont Industrial Biosciences is proud to be recognized by the Biorenewable Deployment Consortium for our work in the ever-growing bioeconomy sector. We accept this award on behalf of a global team of innovators who are focused on providing market-driven, biobased solutions to meet the needs of a growing population, while protecting our environment for future generations," said DuPont Business Director for Cellulosic Ethanol Steve Mirshak, who received the award on DuPont's behalf.
DuPont established the world's largest cellulosic ethanol facility in Nevada, Iowa and with its
partner Tate & Lyle, is the leading producer of Bio-PDO®, a petroleum-free propanediol. BDC has worked toward the deployment of bio-processes since 2006 and holds two annual symposiums a year for its members.