The Illinois Soybean Association's (ISA) B20 Club recently partnered with the Chicago Area Clean Cities Coalition to promote the benefits of biodiesel. Timed with National Biodiesel Day, the B20 Club promotion, sponsored by ISA and the American Lung Association in Illinois, highlighted Illinois-based fleets running on 20 percent (B20) biodiesel blends.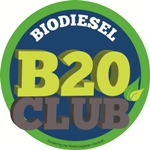 "By promoting biodiesel's benefits through CACC, we can play a greater role in reducing our state's carbon footprint and supporting local economies," said Gary Berg, soybean farmer from St. Elmo, Ill., and ISA director. "Increased biodiesel consumption supports Illinois farmers by creating more demand for soybean oil, which ultimately builds a more sustainable future for Illinois."
According to ISA, B20 Club members have chosen biodiesel for its fuel savings and emissions reductions. The club's combined reduction in carbon dioxide emissions per year is the equivalent of planting 10,638 trees.
"We are grateful for the support of the B20 Club and Illinois Soybean Association. Together, we can create increased awareness about biodiesel's ease of use and environmental benefits," added John Walton, vice chairman of Chicago Area Clean Cities. "Last year our coalition's 150 members had the same effect as removing 53,000 passenger cars from the road. This partnership is likely to increase this positive impact."