E15 has made its debut in the Show-Me State at two Kum & Go locations in Springfield, Missouri. The fuel is a blend of 15 percent ethanol and 85 percent gasoline and can be used on cars and light duty vehicles 2001 and newer.
"The availability of E15 is great news for Missouri drivers," said Missouri Corn Growers Association President Morris Heitman of Mound City. "Ethanol is produced locally, with corn grown in Missouri. The addition of E15 at the pump provides an alternative to foreign oil and another opportunity to support this state's rural economy."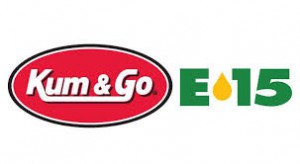 Kum & Go began offering E15 at their South Campbell location in Springfield March 2 and quickly followed suit at the North National station March 4. The chain anticipates six additional locations across Missouri will offer the ethanol blend by the end of the month, including two newly-constructed stores opening in Joplin and Republic featuring a new store prototype and fresh food offerings in addition to an expanded fuel selection.
"Kum & Go has a history of early adoption of ethanol blends, so the addition of E15 in Missouri is a natural fit for our fuel offering," added Jim Pirolli, Kum & Go vice president of fuels. "E15 provides customers with a quality product at a great value-and one that's in line with our focus on sustainability, as well."