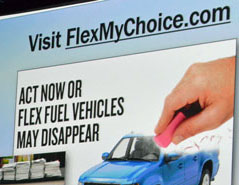 The Renewable Fuels Association (RFA) launched a new campaign at the 2016 National Ethanol Conference (NEC) designed to help the industry voice support for flex-fuel vehicles (FFVs).
The "Flex My Choice" effort is aimed directly at automakers, auto dealerships, and the Environmental Protection Agency (EPA) due to the fact that automakers have begun to limit FFV models as the government phases out CAFE credits for producing FFVs.

In this edition of the Ethanol Report, we hear from RFA CEO Bob Dinneen, Vice President of Industry Relations Robert White, and RFA Chairman Randall Doyal with Al-Corn Clean Fuel in Minnesota about #FlexMyChoice and why it is important to make a difference.
Listen to it here: Ethanol Report on Flex My Choice campaign