ROUSH CleanTech has recently assisted several companies convert to greener fleets. Nestlé Waters North America is adding 150 medium-duty beverage delivery trucks (Ford F-650) fueled by propane autogas. According to ROUSH CleanTech, over the vehicles' lifetime, the 155 Ford F-650 trucks will reduce carbon dioxide emissions by more than 24.6 million pounds. These units will be deployed beginning in April.
"Becoming a better steward of our environment is a priority for Nestlé Waters," said Bill Ardis, national fleet manager for Nestlé Waters North America, speaking at the NTEA Work Truck Show. "We've been running propane autogas vehicles since 2014. Because of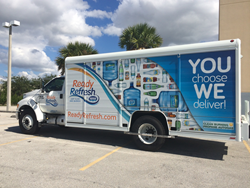 the proven emissions reductions and cost savings, we knew it was the right choice to expand our fleet with this domestically produced alternative fuel."
Each delivery truck is equipped with a California Air Resources Board- and Environmental Protection Agency-compliant ROUSH CleanTech propane autogas fuel system with a 45-usable gallon fuel tank. Mickey Body in High Point, North Carolina, upfitted the vehicles with side-load beverage bays.
The new medium-duty delivery trucks, added to the company's existing autogas fleet of 30 Ford trucks of the same model, will also help the company save on maintenance and fuel costs. Ardis added, "Autogas allows us to operate without compromising standard delivery methods and reduce operational costs. Customers have already noticed that our trucks operating on autogas are quieter and cleaner," said Ardis who noted their fuel savings per gallon is about $1.
"Fueling beverage delivery trucks with propane autogas offers the best total cost of ownership," said Todd Mouw, vice president of sales and marketing for ROUSH CleanTech. "By choosing this safe, abundant and American-made fuel, fleets around the nation have reduced operating costs and lowered their carbon footprint."