According to a new poll from the Des Moines Register, 71 percent of Iowans favor the Renewable Fuel Standard (RFS), 21 percent oppose it and eight percent are unsure. The issue was a hot button for candidates leading up to the Iowa Caucus where Sen. Ted Cruz received the state's nomination, despite voters being unsure as to what his stance on the RFS and ethanol really was and RFS supporter groups spending millions running pro-RFS and anti-Cruz ads throughout the state.
The poll also found that 66 percent of Republicans, 76 percent of Democrats and 71 percent of independents favor the RFS. Tea party supporters also support the legislation with 64 percent in favor.
The most recent poll showed a five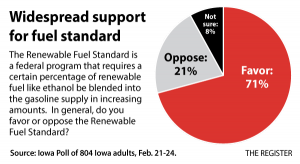 percent growth in support among Republicans to 66 percent, while support among Democrats stayed consistent.
"Iowans know ethanol and the RFS are allowing America's farmers and innovators to produce clean, secure, renewable fuel right here at home that reduces toxic emissions and is better for the air we all breathe. The immense benefits and potential of biofuels, like ethanol, plays a critical role in America's energy policy and in developing a 21st century fuel for 21st century vehicles," said Tom Buis, co-chair of Growth Energy in response to the poll.
He added, "Contrary to the oil industry spin, this poll reinforces the fact that the issue gained ground with Iowans during the 2016 caucuses and now they support it in even greater numbers than before. The relevancy of the issue is why an overwhelming 83 percent of Iowans caucused for pro-RFS candidates in 2016, higher percentage than in 2012."
The poll was conducted by Selzer & Co., which surveyed 804 Iowa adults from Feb. 21-24. The poll has a margin of error of plus or minus 3.5 percentage points.