USDA has released a new report, "Federal Activities Report on the Bioeconomy." According to Dr. Catherine Woteki, the report was developed to create awareness of federal agency activities that are helping to develop and support the bioeconomy. The "bioeconomy" is an emerging part of the U.S. economy, says Woteki, that utilizes renewable biological resources to produce fuels, power and biobased products.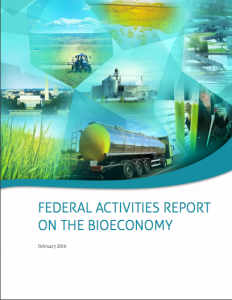 According to the Department of Energy (DOE), the U.S. has the potential to sustainably produce one billion tons of biomass. This could displace 25 percent of U.S. transportation fuels, 50 billion pounds of bio-based products, and generate 85 billion kWh of electricity. To reach this would mean tripling the size of current U.S. biomass usage. USDA, DOE, and other federal agencies have activities in place that provide a foundation for the existing bioeconomy.
The Federal Activities Report on the Bioeconomy introduces the Billion Ton Bioeconomy Vision—the government's new, collaborative vision of what America could achieve by expanding efforts to develop the bioeconomy. Moving forward, the Biomass R&D Board will be hosting a series of workshops and webinars to gather input for the vision from stakeholders and the public, which will be released later this year.