Platts has entered into a strategic agreement with the U.S. Department of Commerce's (DOC) International Trade Administration (ITA) to provide fundamental forecasting data and in-depth analysis for ethanol producers looking for export opportunities.
Sarah Cottle, Platts global content director of agriculture, said of the announcement, "We're pleased to be recognized by the U.S. Commerce Department's International Trade Administration as a hallmark of quality, for our independent biofuels data and analytics. We look forward to working with the ITA to further the understanding and transparency in biofuels and agriculture markets and trade."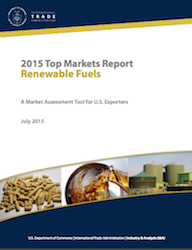 According to Platts, its data and analysis will underpin the qualitative insights found in the ITA Renewable Fuels Top Markets Report that will be updated later in 2016 as part of the ITA agreement with Platts. The ITA provides U.S. businesses with tools and resources required to navigate the unique and rapidly growing biofuels marketplace through its Top Markets Report.
"We're pleased to welcome Platts as a partner in our efforts to strengthen the U.S. economy and support local jobs through expanding U.S. exports," said Deputy Under Secretary for International Trade Ken Hyatt who was a speaking at the recent National Ethanol Conference in New Orleans. "With more than 95 percent of potential customers living outside U.S. borders, it's imperative that American companies of all sizes consider the benefits of selling their products abroad. We believe this strategic agreement provides us with a unique opportunity to significantly enhance our analysis of potential exports for the U.S. biofuels industry and increase awareness of opportunities for U.S. exports globally."