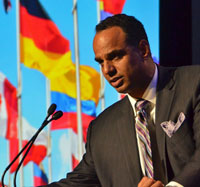 Expansion of ethanol exports is critical to allow U.S. industry to grow in face of domestic infrastructure challenges, which is why exports were such a big focus at the 21st National Ethanol Conference last week.
"We are firmly committed to help grow and expand export markets for our members and for the industry," said Renewable Fuels Association General Counsel Ed Hubbard, who moderated two panels at the NEC discussing export trends and opportunities. RFA was selected to partner with the Department of Commerce's International Buyer Program at the conference which focused on five main target markets – Brazil, China, Philippines, India, Mexico. "The markets were part of the top markets report prepared by the Department of Commerce, which was the result of careful analysis on export markets to look at where the opportunities for our industry lie," Hubbard added.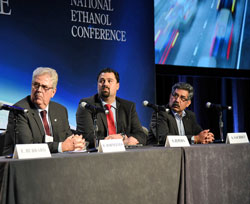 The first panel on exports featured Ricardo Dornelles with the Ministry of Mines and Energy of Brazil; Stephan Zepeda of Grupo Báltico in Mexico; and Amit Sachdev, Consultant in South Asia, U.S. Grains Council.
Links to presentations from each are found below:
Ricardo Dornelles presentation
Stephen Zepeda presentation
Amit Sachdev presentation
Listen to the panel here: Ethanol Exports Panel 1
The second panel on exports featured Max Thomasson, CHS Inc. Director for Global Trading; U.S. Grains Council Chief Economist Mike Dwyer; Eco-Energy International Director Alexandre Zebulun Ades; and Scott Richman, Senior Vice President at Informa Economics.
Listen to that panel here and presentations via links below: Listen to the panel here: Ethanol Exports Panel 2
Scott Richman presentation
Alexandre Ades presentation