Despite low crude oil prices, 2015 was still a robust export year for the ethanol industry according to Kenneth Hyatt, deputy under secretary for International Trade with the U.S. Department of Commerce (DOC). The DOC partnered with the Renewable Fuels Association, the host of the 21st Annual National Ethanol Conference (#RFANEC) where delegates from several countries were on hand to discuss export opportunities.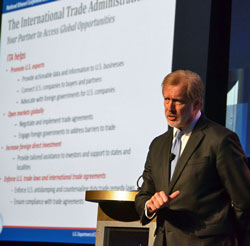 Hyatt said his organization has four key areas of focus in which they can assist the ethanol industry: promotion of U.S. exports; aid in opening global markets; assist investors in increasing direct foreign investment; and enforce U.S. trade laws and international trade agreements. However, the focus of his presentation was on exports.
"I would think about us as doing anything that would help you figure out whether to export, figure out to where to export. If you want to find a buyer in one of those countries, to help find a buyer in those countries. If it's to help find a distributor in a country, we help find that distributor. It can also be if you have a problem in a country," remarked Hyatt.
Hyatt also gave an overview on the top destinations of the export markets (Canada, Brazil and Phillipines), and also discussed the updates on the horizon of its Renewable Fuels Top Markets Report 2016. It covers both ethanol and biomass woodpellets and includes case studies, contact information and ranks them on strength of prospects.
Listen to Kenneth Hyatt's presentation here: Kenneth Hyatt's Presentation
Kenneth Hyatt's PowerPoint presentation