This week in New Orleans, "Ethanol Evolution: The Data and Deals Driving the Future," was a topic during the 21st Annual National Ethanol Conference (#RFANEC). The panel was moderated by Mike Jerke, CEO, Guardian Energy; and included Mark Fisler, Managing Director, Ocean Park Advisors; and John Christianson, Primary Partner, Christianson & Associates, PLLP.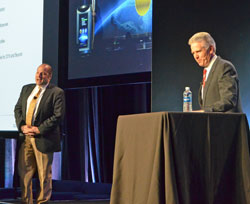 During the discussion, Fisler said that the North American biofuels industry saw a major consolidation of players last year and this year is pointing to the same trend.
"Our experience leads us to believe there will be an increased number of owners and boards of renewable fuel companies evaluating their options in 2016, if not testing the market for reasonable assessments of the value of their plants," noted Fisler. He added that the ethanol industry in particular is ripe for consolidation although there are still 94 standalone ethanol plants that have annual production capacity of 5.3 billion gallons, or about 36 percent all North American ethanol production volumes.
To learn about about this trend as well as how the ethanol industry is faring financially, listen to the Ethanol Evolution panel discussion: Ethanol Evolution Panel
View Power Point presentation.