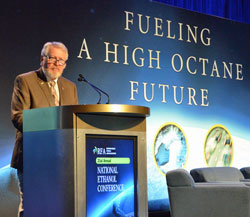 Renewable Fuels Association (RFA) chairman Randall Doyal believes the 2016 National Ethanol Conference was one of the best ever and he's very pleased with attendance.
"Attendance is up over last year," said Doyal. "I've heard people who thought that everyone would be depressed because margins are non-existent and we're looking at some really tough times, but the industry's kind of matured and people have gotten their feet under them – and it's not their first rodeo."
The CEO of Al-Corn Clean Fuel of Minnesota has been in the industry for over three decades and says he's seen a lot of ups and downs over the years. "Oil's overproduced, ethanol's overproduced and the solution to that is low prices and folks slowing down production and that's the way commodities work," he said.
Still optimistic about the future for the ethanol industry, Doyal strongly encourages all stakeholders to voice their concerns to the auto industry in support of continued Flex Fuel Vehicle (FFV) production by taking part in the new "Flex My Choice" campaign. "My wife and I own three vehicles, all three are flex fuel, and none of them are flex fuel in the current model year – that's not okay," he said. "We like those vehicles, we bought them for a reason, and we won't buy them again. General Motors, Chevrolet, Ford – they need to wake up and they need to hear our voice."
The new campaign provides ways for interested parties to send a clear message to the auto makers, to EPA and even to their local dealers that they want to see them continue to make and sell FFVs, which can use up to 85% ethanol blends.
Listen to my interview with Randy here: Interview with RFA Chairman Randall Doyal