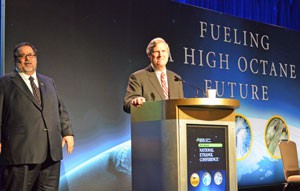 Agriculture Secretary Tom Vilsack visited the National Ethanol Conference for the last time in the position he has held under President Obama for both terms.
During his appearance, Vilsack announced some good news for the ethanol industry – new research showing significant improvement in ethanol production efficiency.
"This study we just published today looks at the ratio of the energy used to produce a gallon of ethanol and the energy that it creates, and the ratio has improved significantly," said Vilsack.
According to the study, between 1991 and 2010, direct energy use in corn production has dropped by 46 percent per bushel of corn produced and total energy use per bushel of corn by 35 percent. Moreover, between 2005 and 2010, direct energy use fell by 25 percent and the total energy use by 8.2 percent per bushel—meaning that between 2005 and 2010, the energy required per bushel of corn produced dropped by about 5 percent.
"The bottom line is, today, more energy is being produced from ethanol than is used to produce it, by factors of 2 to 1 nationally and by factors of 4 to 1 in the Midwest. There are many reasons to be optimistic about the future of the bio-economy and the role biofuels and advanced biofuels will play in that future, and I am confident this administration has acted aggressively to expand the groundwork to support that brighter future," Vilsack said.
Listen to Vilsack's address to the NEC here: USDA Secretary Vilsack at NEC16
Vilsack answers press questions on Cuba, FFVs, ethanol efficiency and more – Sec'y Vilsack NEC press avail