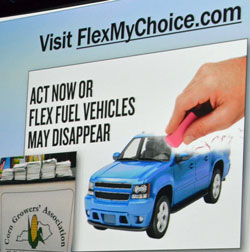 The Renewable Fuels Association (RFA) launched a new campaign today at the National Ethanol Conference (NEC) designed to help the industry voice support for flex-fuel vehicles (FFVs).
The "Flex My Choice" effort is aimed directly at automakers, auto dealerships, and the Environmental Protection Agency (EPA) due to the fact that automakers have begun to limit FFV models as the government phases out CAFE credits for producing FFVs.
"The auto companies claim there has not been meaningful consumer demand for these vehicles and the incremental cost, albeit trivial, cannot be justified in the absence of a more balanced CAFE regime," said RFA CEO Bob Dinneen during his state of the industry address. "The ethanol industry needs to demonstrate the continued enthusiasm for FFVs. We want to raise our voices so that E85 and other mid-level ethanol fuels remain viable options for consumers."
As part of the campaign, RFA intends to distribute 75,000 postcard pamphlets to targeted parties across the country in the hopes of changing the conversation on the future of FFV production. The postcard pamphlets will contain five panels: the first panel is a brief introduction to the issues; panels 2 through 4 are individual postcards to General Motors, Ford Motor Company, and Fiat Chrysler Automobiles (the "Detroit Three"); and the fifth panel contains a pledge that consumers can drop off at their local auto dealership. Additionally, the campaign launched two petitions on www.Change.org directed at the automakers and the EPA respectively.
RFA vice president of industry relations Robert White says the campaign intends to ensure that consumers have choices when it comes to buying and fueling their vehicles. "Thanks to USDA, the ethanol industry, and agriculture, 2016 will mark the largest expansion of E85 stations in history; it is not the time to stop the momentum," said White. "This campaign will send a clear signal to the automakers, their auto dealerships, and the EPA that there is a real demand on the part of consumers for more vehicle choices, more choices at the pump and increased access to higher ethanol blends."
White explains more about the need for the campaign and how to participate in this interview: Interview with Robert White, RFA