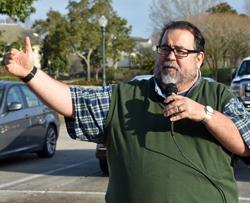 The Reverend of Renewable Energy, Mr. Bob Dinneen, Renewable Fuels Association, in traditional fashion, provides us with a preview of the 21st National Ethanol Conference. The Conference kicked off this morning at English Turn Golf & Country Club with the annual NEC tournament. The weather threatened but held off for a beautiful day.
Bob says the agenda includes some great speakers including John Hofmeister, former president of Shell Oil Company and Founder/CEO, Citizens for Affordable Energy and our U.S. Secretary of Agriculture Tom Vilsack. It's a very political year which he says is going to keep things interesting. In fact, we will also hear from Mike Murphy, Political Analyst, NBC News and Paul Begala, Political Analyst, CNN. That might even be entertaining.
Bob says that after the death of Supreme Court Justice Antonin Scalia the whole tone in Washington, DC changed. Between that tragedy and a shortened Congressional season due to the political conventions it will make it very hard for much action to be taken.
Here at the conference Bob says he wants to encourage members to look ahead, find and build new markets, feel proud of their industry. We're also going to have a session on how to communicate with the consumers of today.
You can listen to my interview with Bob here: Interview with Bob Dinneen, RFA