Iowa Corn Growers Association along with Iowa Speedway have announced a multi-year sponsorship renewal of the IndyCar Series Iowa Corn 300 through 2018. This is the 10th year of partnership and the extension makes Iowa Corn the second longest entitlement sponsor in INDYCAR racing.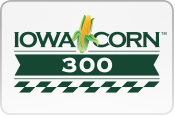 "The Iowa Corn 300 reaches a global audience with an expanding viewership," said Mark Heckman, Iowa Corn Promotion Board President and a farmer from West Liberty, Iowa. "What's really cool is its ethanol powering those E85 Indy cars. The program exposes a broad audience to the state of Iowa, agriculture and corn farming while demonstrating the many benefits of ethanol including its power and performance. We had another phenomenal year in 2015, and we look forward to many more to come."
According to Iowa Corn, Iowa Speedway serves as a platform to support the Renewable Fuel Standard (RFS) and promote the benefits of renewable fuels grown in America. The organization says INDYCAR weekend at Iowa Speedway is a culmination of the nearly 40 years of hard work and dedication necessary to build the corn-based ethanol market and raises awareness about Iowa farmers' ability to produce corn for their key trades – livestock, ethanol production and exports.
"This has become a lauded Iowan tradition enjoyed by millions across the globe. We are incredibly proud to authentically demonstrate the performance of ethanol in the world's fastest race cars here at the Fastest Short Track on the Planet," said Iowa Speedway President Jimmy Small.
The 2016 Verizon IndyCar Series Iowa Corn 300 will be take place Sunday, July 10 and tickets are now on sale.