Students who are part of the Next Generation Scientists for Biodiesel had the opportunity to share their research during the recent National Biodiesel Conference and Expo. The students all have one thing in common – their passion for the biodiesel industry.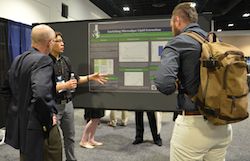 I spoke with several of these budding biodiesel leaders during the poster session. Thomas Kwan is a PhD candidate at Yale and is part of the Center for Green Chemistry & Green Engineering. While doing his undergraduate he looked at emissions from diesel fuel, particularly locomotives. He then leveraged this interest into looking not at the tailpipe, but the fuels themselves for emission reductions.
Thomas's research is framed around an integrated biorefinery with algae as the foundation. In other words, the "plant" accepts some biomass and then produces biodiesel and other biobased products. Enabling technologies for the idea of an integrated biorefinery. Used micro algae that has high content for biodiesel lipids as well as other compounds, in particular, astaxanthin, a powerful antioxident. IN the case of algae, the bioproduct is not yet approved for human consumption but Thomas hopes this research will help change that. Ultimately, they looked at how to tweak the biorefinery to get more lipids for biodiesel, or to get more astaxanthin. To learn more, listen to my interview with Thomas Kwan here: Interview with Thomas Kwan
William O'Connell is a senior at Clemson University in Biosystems Engineering. He became interested in biodiesel while doing his undergraduate research, and then attended the conference last year. He's back and this year presented his research during the poster session.
The focus on the project is to reanalyze the school's current process of collecting used cooking oil and converting it to biodiesel. William said they are looking to see if there is a more efficient way to produce the biofuel. What they have discovered is using interesterification is more efficient. To learn more, listen to my interview with William O'Connell here: Interview with William O'Connell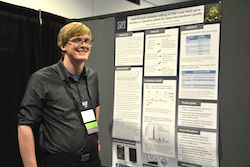 James Davis is in his fourth year of his PhD at the University of Nevada, Reno. He has a keen interest in fatty acids of seed crops such as canola or camelina sativa. He explained that his research is focused on altering the lipid profile of camelina sativa.
The idea is to apply a cutting edge gene editing technology to knock out certain genes. Essentially, his goal is two-fold. One, to alter the fingerprint of the lipid profile and they are also trying to eradicate erucic acid, a semi-negative toxic lipid that is bad for livestock making camelina seed meal restricted for use in feeding livestock. James notes that if they can get rid of some of the negative profile, they can create a more high-value byproduct. To learn more, listen to my interview with James Davis here: Interview with William O'Connell