The 180 MW Armow Wind power facility in Ontario has powered up. The Samsung Renewable Energy and Pattern Energy Group project used Ontario-made products. Towers for the 91 Siemens 2.3 MW wind turbines were made in Windsor and the 273 blades were manufactured in Tillsonburg.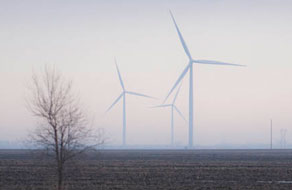 "Samsung is proud to complete our fourth wind project under our Green Energy Investment Agreement with the government of Ontario," said Steve Cho, Vice President, Samsung C&T. "Armow Wind created more than 350 jobs during peak construction and supported over 750 workers from our Ontario manufacturing facilities. Samsung and its partners are creating jobs and investing in the community which is benefiting real people in Kincardine and across the province."
According to a press statement, Armow Wind is also bringing strong economic benefits to the Kincardine community, including more than $75 million over 20 years in property taxes, landowner lease royalties and community benefits. As part of a long-term Community Benefit Program, Armow Wind committed $13.6 million dollars to the Municipality of Kincardine. The program supports education and other initiatives.
"Armow Wind is a great example of how Ontario is changing the future of electricity. Armow Wind is a project that produces clean, renewable energy and that was built by Ontario workers with Ontario-made wind turbine components," added Mike Garland, CEO of Pattern Development. "Armow Wind is now generating millions of dollars in local lease payments and property taxes, updating the local airport, and improving the community of Kincardine through our community benefits program. We want to thank the landowners, other community members and the municipality for their hard work and collaboration on this project. We are honored to become a part of this great community."
The Armow Wind power facility operates under a 20-year power purchase agreement with the Independent Electricity System Operator (IESO).