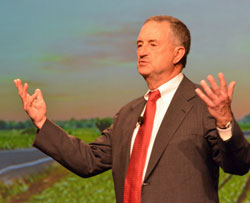 National Biodiesel Board chairman Ron Marr with Minnesota Soybean Processors addressed the second general session of the 2016 National Biodiesel Conference with the message of teamwork to accomplish industry goals.
"As a team we have a shared drive and commitment to go out and win," said Marr. "And as an industry, we have fought hard and had many successes but we also face significant challenges in the months to come."
Marr stressed the importance of each individual member to get involved, particularly on the national level in contacting their legislative representatives. "Never underestimate the vital importance of your individual effort to your team's success," he said.
Listen to Marr's address here: NBB chairman Ron Marr