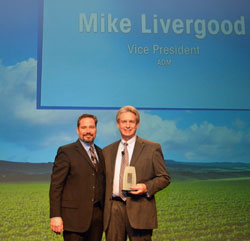 The "Eye of Biodiesel" awards were announced during the 2016 National Biodiesel Conference & Expo in Tampa, Florida this week.
First up was Mike Livergood who received the Lifetime Achievement award. He is retiring this year from ADM after nearly four decades with the company. In his acceptance speech, Livergood talked about how ADM become involved with the National Biodiesel Board back in 1999. "By 2011, we were running eleven biodiesel facilities on three continents with total capacity of nearly three-quarters of a billion gallons a year," he said. "Biodiesel was truly the savior of the soybean crushing industry."
Listen to his remarks here: Mike Livergood, Lifetime Achievement Award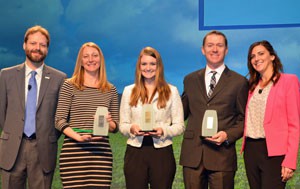 The National Biodiesel Board recognized three organizations in California this year as the Climate Leader award winners. The Environmental Defense Fund (EDF); Environmental Entrepreneurs (E2); and the American Lung Association were all recognized for their environmental leadership to promote all clean fuels, including biodiesel, along the West Coast. These three organizations, along with other NGOs, bolstered and defended Low Carbon Fuel policies in California and Oregon. NBB Director of Sustainability Don Scott (L) presented the awards to representatives each organization – Mary Solecki of E2, Heather Palmer with the American Lung Association, and EDF's Timothy J. O'Connor.
O'Connor spoke for the group in accepting the award. Timothy O'Connor, Environmental Defense Fund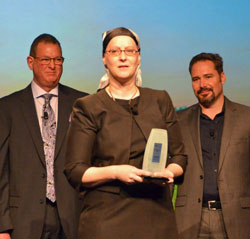 Beth Calabotta, former Monsanto Director for Bioenergy and currently serving on the National Biodiesel Foundation, was honored with the Impact award for her tireless dedication to the advancement of biodiesel.

Beth's experience in the field of agricultural yield technology and the markets that drive demand for protein give her a rare and valuable knowledge base that she has put 100 percent into her work to advance biodiesel. She has contributed greatly to the sustainability efforts at NBB and projects to analyze the real world indirect effects of biodiesel production.

Listen to her remarks on winning the Impact Award here: Beth Calabotta, Biodiesel Impact Award winner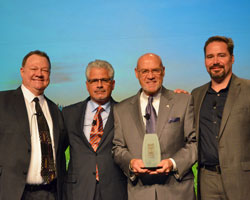 John Maniscalco, who recently retired as the head of the New York Oil Heating Association after more than 20 years was honored with the Pioneer award. In 2013, Maniscalco received the Industry Partnership award.
Maniscalco was at the forefront of leadership in the heating oil industry, serving as the first treasurer of the National Oilheat Research Alliance before his time at NYOHA. He's also been at the forefront of the industry's move to Bioheat®, biodiesel in home heating. He was instrumental in New York City implementing legislation for B2 heating oil citywide. New York City continues to be a Bioheat® leader in the Northeast on both policy and public perception when it comes to cleaning up heating oil.
Listen to his remarks here: John Maniscalco, Biodiesel Pioneer Award winner