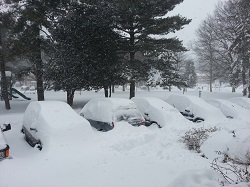 As folks on the east coast have battled an historic blizzard this past weekend, some of the removal of the more than two feet of snow on the roadways has been done by plows running on biodiesel. This article from Bay Weekly from Annapolis, Maryland, says the green fuel went a long way in exposing the black roadway underneath that blanket of white.
When snow falls, George Sharps goes to battle.
As you read weather reports, he is revving his plow to be ready to fight his nemesis.
Sharps is one of 350 Maryland State Highway Administration operators who brave conditions that should keep the rest of us home. His mission: to clear 17,000 miles of state roads. He has one request of the citizens of Maryland as we send him into battle: "Stay home and let us do our jobs."
Reducing Collateral Damage
Like any battle, snow-fighting operations have collateral damage. Roads are mauled and the environment — from your lawn to the atmosphere to Chesapeake Bay — ­assaulted.
Heavy diesel equipment consumes fossil fuels and belches out air pollution. The thousands of tons of salt and chemicals spread to melt snow and ice raise the sodium and chlorine levels of both groundwater and surrounding streams that feed the Bay.
New technologies and techniques are reducing the number of trucks on the road, hence the amount of fuel burned…
"Over the past few years, we've developed innovative ways to fight snow more efficiently with less environmental impact," spokesman Charlie Gischlar told me the day I got behind the wheel of the crew's main battle plow.
To control emissions and lessen the fossil fuel impact, this winter's fuel is five percent biodiesel, derived from renewable resources like soybeans.
The article goes on to say that using biodiesel is just part of a bigger plan of Maryland going green when it comes to the black ribbon of highways.