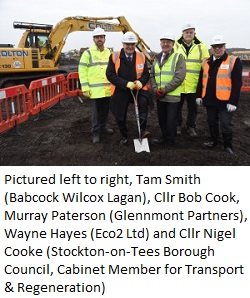 They broke ground last month, and now construction is well underway at a new biomass plant in the UK. This news release from Glennmont Partners says its Port Clarence Renewable Energy Plant is a $227 million power station expected to enter commercial operation in 2018.
The 40MW plant is being built on land which has lain empty for many years and which is situated on the north bank of the River Tees, close to the Transporter Bridge. Fuelled by waste wood, the power station will generate electricity for the equivalent of 75,000 homes across the Tees Valley and elsewhere in the North East.
The construction of the plant is being carried out by Babcock Wilcox Lagan in partnership with Eco2, the company that originated and secured planning for the Port Clarence Energy plant in 2014. There are currently 40 people employed on the site and this is expected to rise to 300 people at the peak of the construction period. Once operational in 2018, the scheme will directly employ 30 people.
Leader of Stockton-on-Tees Borough Council, Councillor Bob Cook, said:
"Glennmont's investment in our Borough is certainly welcomed as through the introduction of technologies such as biomass they can help grow our economy and create jobs for local people.
"I am delighted to see the Port Clarence Energy project begin to come to fruition and I'm looking forward to residents and businesses benefiting from the energy it will produce."
"The Council is committed to working with the private sector to help them explore opportunities to develop renewable energy products like this which will help to reduce carbon emissions."
Murray Paterson, UK Biomass Manager at Glennmont Partners said:
"The existing road and electrical infrastructure makes the Port Clarence area an ideal location for our renewable energy facility. We greatly appreciate the support that Stockton-on-Tees Borough Council has given to the project so far and we will work closely with the Council through the project's construction and eventual operation. The Port Clarence Energy scheme will mean new jobs being created but equally important, it will be generating renewable energy from waste wood that would otherwise have gone to landfill. Port Clarence Energy is good for the local economy and the local environment."