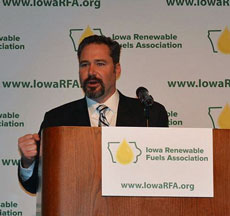 National Biodiesel Board CEO Joe Jobe was the keynote speaker at the 10th annual Iowa Renewable Fuels Summit this week, highlighting the significance of the new volume obligations under the Renewable Fuel Standard (RFS) for biodiesel.
"It signaled a strong commitment by the EPA that they not only wanted to get the program back on track but they want to keep it on track," said Jobe. "Prior to this rulemaking, we only had a precedent of one year's growth for biomass-based biodiesel…after this year, we have a precedent for five years' growth."
Jobe noted that the rulemaking doubled the volumes for biodiesel between 2012 to 2017. "That's significant because in the next five year time frame, from 2018 to 2022, it's our industry's goal to double again," he said. "It's our industry's vision to be 10 by 22, ten percent of the nation's diesel fuel supply by 2022."
Jobe invited everyone to the 2016 National Biodiesel Conference coming up next week in Tampa, promising all that it will be warmer there.
Listen to Jobe's address here: NBB CEO Joe Jobe at Iowa RFA summit