The entire Iowa congressional delegation this week urged the EPA to propose 2017 ethanol and 2018 biodiesel Renewable Fuel Standard (RFS) Renewable Volume Obligations (RVOs) consistent with enacted law.
A letter signed by Iowa Congressmen David Young, Rod Blum, Steve King, and Dave Loebsack, and Iowa Senators Chuck Grassley and Joni Ernst, was sent to EPA Administrator Gina McCarthy encouraging her to commit to getting the RFS back on track.
"Our agricultural base in Iowa, serving as feedstock for ethanol and biodiesel production, has near record supplies of excess corn," the members of Congress wrote. "We believe the statutory levels are more than achievable in the coming year."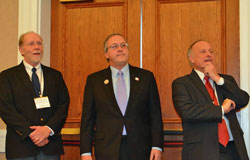 Reps. Loebsack, Young and King all appeared Tuesday at the Iowa Renewable Fuels Summit to discuss the letter and the importance of the RFS.
"We'll see if we get any results," from the letter, said Rep. King. "But we've been saying consistently and persistently that the RFS is in statute – follow it."
"It's not totally out of the question for us to work together," said Loebsack, the only Democrat of the three. "And on this issue it's a complete no brainer … it's about our economy, it's about our farmers, it's about national security, it's about a lot of things."
"We have farm income down about 35% and we have the EPA which seems to be on a warpath at times," said Young. "We're just asking the EPA to obey the law."
Listen to the press conference here: Iowa congressmen at Iowa RFA