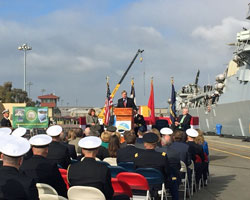 Secretary of the Navy Ray Mabus and Secretary of Agriculture Tom Vilsack kicked off the Great Green Fleet with the deployment of the USS John C. Stennis Carrier Strike Group (JCS CSG) during a ceremony Wednesday in California. At the end of the ceremony, the Arleigh Burke-class guided missile destroyer USS Stockdale left the pier to begin its deployment, becoming the first U.S. Navy ship running on an alternative fuel blend as part of its regular operations.
The Great Green Fleet is a Department of the Navy initiative using energy efficiency and alternative fuels to increase combat capability and operational flexibility. "The Great Green Fleet shows how we are transforming our energy use to make us better warfighters, to go farther, stay longer, and deliver more firepower," said Mabus. "Diversifying our energy sources arms us with operational flexibility and strengthens our ability to provide presence, turning the tables on those who would use energy as a weapon against us."
The blend fueling the Navy ships contains alternative fuel made from waste beef fat provided by farmers in the Midwest purchased through a partnership between the Navy and USDA. "The Navy's use of renewable energy in the Great Green Fleet represents its ability to diversify its energy sources, and also our nation's ability to take what would be a waste product and create homegrown, clean, advanced biofuels to support a variety of transportation needs," said Secretary Vilsack. "Today's deployment proves that America is on its way to a secure, clean energy future, where both defense and commercial transportation can be fueled by our own hardworking farmers and ranchers, reduce landfill waste, and bring manufacturing jobs back to rural America."
The advanced fuel blend was produced by California-based AltAir Fuels from a feedstock of beef tallow – waste beef fat – provided by Midwest farmers and ranchers, and traditional petroleum provided by Tesoro. Pursuant to Navy requirements, the alternative fuel is drop-in, meaning it requires no changes to ship engines, transport or delivery equipment, or operational procedures.