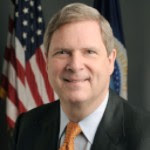 U.S. Secretary of Agriculture Tom Vilsack has been named to the lineup for this year's National Ethanol Conference. The gathering, going on Feb. 15-17 in New Orleans, is the most widely attended executive level conference for the ethanol industry. Vilsack, a former governor of Iowa, was praised by the Renewable Fuels Association as being a long-time ally of ethanol.
Vilsack is a strong proponent of ethanol, renewable fuels and American agriculture. As leader of the U.S. Department of Agriculture (USDA), Vilsack is working hard to strengthen the American agricultural economy, build vibrant rural communities and create new markets for the tremendous innovation of rural America.
Other topics at the conference include, global marketing and logistics trends, ethanol's benefits as a high octane fuel source, and much more!
More information and registration are available here.