Four Republican presidential candidates addressed the 10th annual Iowa Renewable Fuels Summit on Tuesday, putting a major national spotlight on the importance of ethanol to the nation.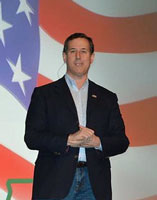 First up was former Senator Rick Santorum of Pennsylvania, the only candidate who had been there before, making his third appearance to the group. He stressed his long support for the Renewable Fuel Standard (RFS). "I am not a newbie to the RFS world," he said. "I'm the only person in this race who actually voted for the RFS when I was in the United States Senate in 2005."
Alluding to Senator Ted Cruz, who was not invited to speak at the summit but who has strong support in Iowa, Santorum encouraged ethanol supporters to "Stand up for someone who supports the RFS."
Listen to Santorum's remarks here: Rick Santorum at Iowa RFA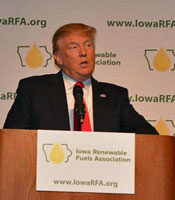 Front runner Donald Trump was next up, reading from prepared remarks and also stressing his support for the RFS. "The RFS is an important tool in the mission to achieve energy independence for the United States," Trump said. "I will do all that is in my power as president to achieve that goal."
Trump also noted remarks that Iowa Governor Terry Branstad made in a press conference at the event that "it would be a big mistake for Iowa to support him."
Listen to Trump's remarks here: Donald Trump at Iowa RFA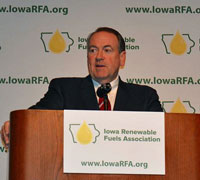 Following Trump was former Arkansas Governor Mike Huckabee, who stressed the importance of farmers in the goal of energy independence, saying people don't appreciate "that our agricultural system not only provides the food and fiber for our tables, but now is doing something truly remarkable – helping provide fuel for our energy needs."
Huckabee said the RFS created investment in renewable fuels and "something magic happened – the program actually worked!"
Listen to Huckabee's remarks here: Mike Huckabee at Iowa RFA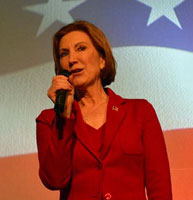 Last to take the stage was businesswoman Carly Fiorina who talked about the EPA's final rule for biofuels volume obligations under the RFS made last year that is lower than Congress intended.
"What's going on with renewable rule standards, what's going on with EPA, are an example of what's wrong with our government," she said. "They are one of the reasons why I'm running for the presidency of the United States."
Listen to Fiorina's remarks here: Carly Fiorina at Iowa RFA