The biofuel industry continues to maintain its united front on encouraging legislative support for the Renewable Fuel Standard (RFS) especially during the presidential campaigns. Leaders from the renewable fuels and agriculture community released a public letter to allies outlining their support for America's Renewable Future (ARF) to protect the RFS.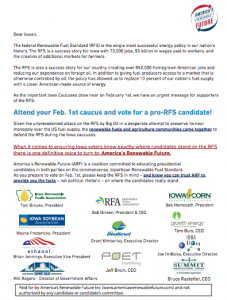 The letter urges Iowa voters to turn to ARF to know where candidates stand on the RFS. It also designates the organization as the definitive voice on the issue. This letter comes as Sen. Ted Cruz has been under fire for his confusing stance on ethanol and the RFS. In a statement from ARF, they said they are committed to continuing let Iowans know that despite his change in tone, Cruz is still anti-RFS and he will destroy Iowa's agriculture economy and Iowa farmers.
The letter was signed by the following leaders: Tom Buis, CEO – Growth Energy; Bob Hemesath, President – Iowa Corn Growers Association; Tom Brooks, President – Iowa Renewable Fuels Association; Jeff Broin, CEO – POET Biorefining; Bob Dineen, President & CEO – Renewable Fuels Association; Wayne Fredricks, President – Iowa Soybean Association; Joe Hrdlicka, Executive Director – Iowa Biotech Association; Grant Kimberly, Executive Director – Iowa Biodiesel Board; Will Rogers, Director of Government Affairs – Iowa-Nebraska Equipment Dealers; Bruce Rastetter, CEO – Summit Agricultural Group; and Brian Jennings, Executive Vice President – American Coalition for Ethanol.