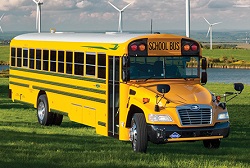 A school district in Indiana this month is rolling out the state's largest deployment of propane autogas school buses, giving the students a cleaner ride to school and saving taxpayer dollars. The Metropolitan School District of Warren Township will start using 11 Blue Bird Propane Vision buses purchased through dealer MacAllister Transportation, including 10 78-passenger models and one bus outfitted with a wheelchair lift.
"Better cold weather starts, lower maintenance and fuel cost, quieter buses, as well as better air quality for students, the bus driver and our community were the reasons we chose propane autogas," said Steve Smith, director of transportation for M.S.D. Warren Township. "With the fuel's clean operation, we anticipate longer maintenance intervals and lower periodic maintenance cost."
The new Blue Bird Propane Vision buses replace older diesel models. A propane autogas fuel system manufactured by ROUSH CleanTech powers each bus.
Historically, propane autogas costs about 50 percent less than diesel per gallon and reduces maintenance costs due to its clean-operating properties. To fuel the buses, M.S.D. Warren Township installed two onsite autogas fuel stations with 1,000-gallon capacity each. "Our drivers will feel more confident taking the longer routes and field trips by having fuel conveniently located and available around the clock," Smith said.
"M.S.D. Warren Township joins over 500 other districts nationwide experiencing the benefits of propane autogas technology: lowering operating costs, maintenance costs and emissions," said Brian Carney, group account director for ROUSH CleanTech.
The fleet of propane autogas buses is expected to lower nitrogen oxide emissions by more than 13,600 pounds and particulate matter by about 350 pounds each year compared with the diesel buses they replaced.