United Wind's WindLease program has been infused with $200 million to fund distributed wind power projects across the U.S. In partnership with Forum Equity Partners, the financing will expand the WindLease program that enables residential and commercial property owners to lease distributed-scale wind turbines. According to United Wind, the program allows customers to tap wind energy through a fixed-rate, 20-year maintenance free lease with no out of pocket costs.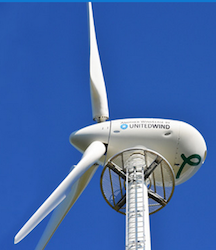 "United Wind brings a unique and innovative solution to wind power delivery by offering a first-of-its-kind wind energy-leasing program for end-users," said Forum's Founder & CEO Richard Abboud. "This kind of forward thinking falls directly in line with Forum's support of innovative and entrepreneurial renewable energy companies serving high-growth markets. We are committed to building highly effective and collaborative partnerships that can significantly benefit communities and investors alike and I am confident this deal will accomplish those goals."
According to the Distributed Wind Energy Association (DWEA), the deal is the largest ever for a distributed wind energy company. Jennifer Jenkins, DWEA's executive director noted, "The success of United Wind's leasing program is an indicator of the massive potential of distributed wind. With this new partnership, distributed wind energy begins its transition from niche concept to mainstream solution."
DWEA estimates that by 2030 there will be 23.7 million homes and buildings suitable for distributed wind, representing a potential for 1,100 GW of generating capacity. DWEA also estimates that other related market segments, such as community wind, wind gardens, and virtual metered systems, could boost the potential for non-windfarm wind-generated energy to 1,400 GW. The energy production potential for the 1,100 GW in 2030 is estimated at 2,900 TWh – which is 70 percent of the net electricity generation in the U.S. in 2014.
"Distributed wind is often the optimal renewable energy choice for rural property owners seeking to lower their energy costs," added Russell Tencer, co-founder and CEO of United Wind. "With this pivotal investment by the visionary team at Forum Equity Partners, United Wind is now well positioned to provide low-cost wind energy through its WindLease offering to thousands of customers across the country."