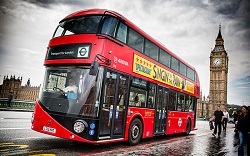 About one-third of London's buses will soon be running on biodiesel made from animal fat waste. This article from the Guardian says two bus operators, Stagecoach and Metroline, will get the green fuel from Argent Energy at a 20 percent biodiesel (B20) blend.
By March next year, almost 3,000 of the capital's 8,900 buses will be powered by the B20 fuel blend.
It is estimated that buses running on waste-based B20 produce 10 per cent less carbon emissions than a bus using ordinary diesel.
Transport for London (TfL) said it is resulting in a huge reduction in CO2 emissions of 21,000 tonnes each year.
Mike Weston, TfL's Director of Buses, said: "Our bus fleet is now making a major contribution to improving air quality and bringing down CO2 emissions.
"This improvement, which will reduce CO2 emissions by 21,000 tonnes each year, is being introduced now with no extra spend needed and no long delay for the fitting of new kit.
"It's just one of a number of measures we are taking to make London's environment better for everyone."