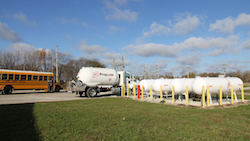 Stanford, Illinois students are traveling around town in school buses fueled by propane. The Olympia Community Unit #16 School District, a rural district covering 377 square miles, converted to propane-fueled buses to meet the district's needs for reliable, lower-cost buses. The school buses travel an average of 20,000 miles per year.
According to John Olsen, assistant superintendent for Olympia, the district tested propane with two school buses and now has 12- nearly one-third of their 33 bus fleet. The remaining buses run on diesel fuel. He estimates each bus saves the district $2,500 per year in fuel and maintenance and is expected to serve the district for 10 years. He figures that the buses will save the school district $300,000 over the 10-year life of the buses.
According to information about propane autogas, propane engines do not require diesel exhaust fluid (DEF) and diesel particulate filters, and oil consumption can be reduced as much as 50 percent, making propane powered buses less expensive to operate and maintain. Propane fuel costs, currently lower than diesel fuel, make up the difference and more.
The savings are not the only benefit of the propane buses, says Olsen who notes they are also quiet and cleaner-burning. "I love the fact that when our buses pull up to the schools at the beginning or end of the day, we're not sitting there creating a cloud of fumes right outside the school," he added.
Evergreen FS, based in Bloomington, IL works closely with Olsen to supply the fuel. They also set up and continuously service and maintain the four 1,000 gallon propane tanks on-site. Typically the storage onsite provides a seven to eight day supply of propane. Olsen and the school district will continue to work with Evergreen FS, a member cooperative of GROWMARK, who keep him up-to-date on technical advances that will make the fleet even more cost efficient over time.