Wind will be soon be powering General Motors' (GM) Arlington Assembly plant (Texas). Enough renewable energy will be produced to build nearly 125,000 trucks a year. The 115 million kilowatt hours of renewable energy will be enough to manufacture more than half of the plant's annual vehicle output – the plant produces more than 1,200 vehicles per day. The wind power project should be online during Q4 2016.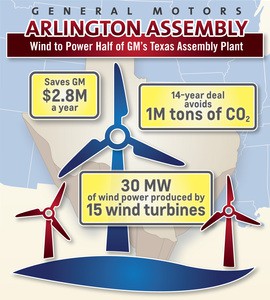 GM signed a power purchase agreement with EDP Renewables North America for its first U.S. wind power project– 30 MW of energy from the planned 250 MW Hidalgo Wind Farm in Edinburg, Texas. Fifteen of the wind farm's 261-foot-tall turbines, whose blades span the size of a football field, will generate the energy GM will use.
"Our investment is helping accelerate the proliferation of clean energy in Texas and the use of wind as a reliable, renewable source of energy," said Jim DeLuca, GM executive vice president of Global Manufacturing. "Our sustainable manufacturing mindset benefits the communities in which we operate across the globe."
EDP Renewables North America CEO Gabriel Alonso, added, "We are pleased to enter into this agreement with General Motors and look forward to providing clean and more economical energy for GM's Arlington Assembly plant in the coming years."
Beginning in the first quarter of 2016, wind energy will help power three GM Mexico facilities. Once on line, the company will exceed its commitment to use 125 MW of renewable energy by 2020. GM's investments in renewable energy to date have yielded nearly $80 million in savings.