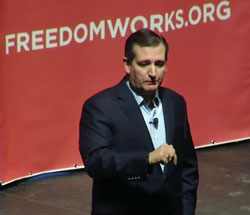 Republican presidential candidate Sen. Ted Cruz of Texas has gotten a sudden bump in the polls, showing him now leading front runner Donald Trump among committed Iowa caucus goers.
On Friday, Trump criticized Cruz's lack of support for ethanol, but on December 5 the senator appeared at the FreedomWorks Rising Tide Summit in Cedar Rapids and spoke very favorably about ethanol, saying in his speech that as president he would "take on the EPA's blend wall that is preventing ethanol and biofuels from having a larger share of the marketplace."
Asked about ethanol by reporters at the event, Cruz expanded on that comment. "One of the things I am committed to doing is expanding market access to ethanol," he said. "Right now you see federal regulatory barriers, you see EPA blocking ethanol's ability to access the market. As president, I will remove those barriers."
Cruz specifically said he supports all sources of energy, including ethanol. "I think God has blessed this country with abundant natural resources," he said. "But you shouldn't have government picking winners and losers. My tax plan that I've introduced eliminates every subsidy across the board for energy," he added, including oil.
Asked if ethanol can survive without the Renewable Fuel Standard, Cruz said, "Not only would ethanol survive without the RFS, ethanol can and will grow. There is a market demand for ethanol. Ethanol adds octane to gasoline in an environmentally responsible matter, and right now the barrier to ethanol expanding is the federal government."
Listen to Cruz's comments here: Cruz comments on ethanol in Iowa