The Mont-Rothery wind project has been commissioned. The 74 MW wind farm is sited on public lands in the MRC of Haute-Gaspésie and MRC of Côte-de-Gaspé. Construction of the project, owned by EDF EN Canada Inc., began in 2014 and features 37 turbines of 2 MW each supplied by Senvion. The electricity will be delivered to Hydro-Quebec Distribution under a 20-year Power Purchase Agreement.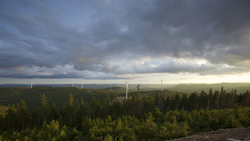 "Throughout the development and construction phases, EDF EN Canada has worked hand in hand with the host community and elected officials of the region. The project is a practical example of our company's philosophy in action – achieving sustainable development through cooperation and harmonious relations with our host communities," said Al Kurzenhauser, Chief Operating Officer for EDF EN Canada.
Throughout the 20-year contract with Hydro-Quebec, the MRCs involved will share a combined annual contribution of CAD $185,000. By the end of 2017, EDF EN Canada will have placed in service 1,599 MW of wind and solar projects in Canada.
Alex Couture, Director of Generation for EDF EN Canada added, "We extend a special thanks to Mr. Gaétan Lelièvre, deputy of Gaspé, Ms. Délisca Ritchie-Roussy, the mayor of Murdochville and the prefect of the MRC of Côté-de-Gaspé, as well as Mr. Allen Cormier, the prefect of the MRC of Haute -Gaspésie. We are grateful for the spirit of partnership and for the confidence they have showed since the first steps of Mont-Rothery development. We look forward to many years of continued collaboration and success with them."